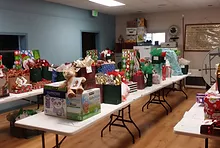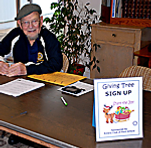 Rotary Club of Port Orford (RCPO) Giving Tree is a community program, where members of the community select tags off a tree, and purchase Christmas Gifts for children in families that cannot quite fund Christmas surprises. The project, under various names, dates back at least 30+ years.  Giving Tree came under the RCPO umbrella in 2016, which allowed us to accept tax-deductible donations for our Food Bags through their Community Service Fund. (Make checks payable to Rotary Club of Port Orford Community Service Fund <RCoPO Community Service Fund> use memo line to write Giving Tree.  Mail to POB 1284 Port Orford, OR  97465)
RCPO members facilitate the project by collecting applications, and creating the tags for community shoppers to select from. Then members assist with the collection and distribution of the carefully selected and wrapped presents purchased by our community shoppers. 
Christmas Food Bags
Nothing like a few sweet treats and extra food to stretch the food budget during the holidays. We are excited to provide these extras to our families and note that we do include some candy and cookies, along with products to complete a breakfast, lunch, and dinner, and an assortment of fresh fruit.
Food Bags are a Rotary project that addresses feeding the children during the school holiday vacation. Food insecurity is one of the top projects of most Rotary Clubs around the world.
Partners / THANK YOU!
​Our partners allow us to present a true community-supported project, and we can't thank them enough for stepping up!  
Coos-Curry Electric Cooperative for providing a Tag Pickup/Gift Collection
Port Orford Public Library provides support as a drive-through event, making it easy for our Rotarians to serve our patrons, also application distribution and collection
Rogue Credit Union is our original partner, serving as a Tag Pickup & Gift Collection along with Application distribution & collection